First 6 digits of your Mastercard® You must be a valid Mastercard® holder
-
X
X
-
X
X
X
X
-
X
X
X
X
Please click the button for Consultation and our Medical Concierge will contact you. This special offer is only available on Baynaru.
We need customer information for accurate consultation.
*Notice : Reservation and payment should be completed at least 3 days in advance.
Introduction
Lotte World Adventure
Lotte World, located in the center of Seoul, is the theme park that has concepts of adventure and mysterious world.
"Adventure," indoor park, and "Magic Island," outdoor park, including various rides, a large ice rink, performances, and four different types of parades in each year that you will enjoy and get romantic mood. Not only that, Lotte World is connected to an indoor Korean folk museum, featuring Korean traditional culture and histories. Lotte World is also a very popular venue for filming Korean entertainment shows and dramas. Some of the examples are Full House and Stairs of Heaven, popular TV drama.
Besides the theme park, there is a department store, duty free shopping, hotel, grocery store, movie theater, and food plaza conveniently located nearby.
You can receive 20% discount with the Mastercard and coupon image below when you purchase on site. And 25% discount with advanced purchase through Baynaru online page.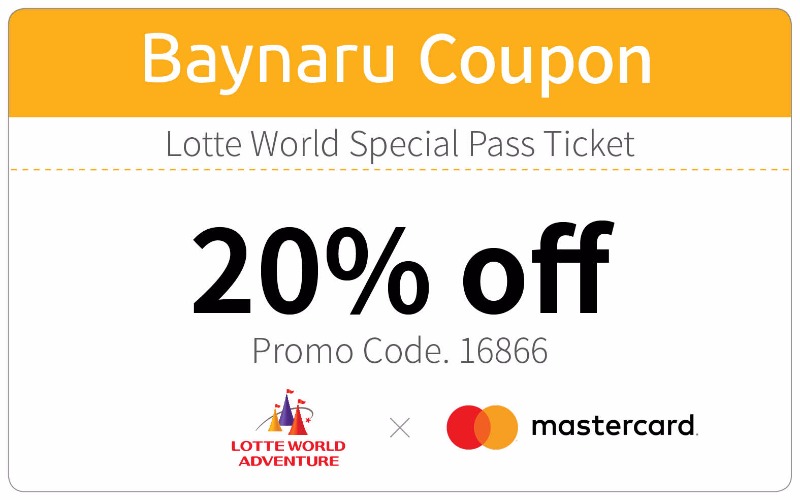 Attractions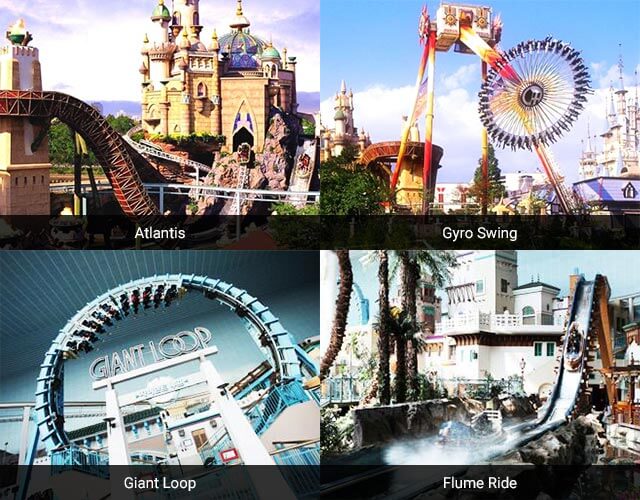 Lotte World Aquarium
Lotte World Aquarium, which dreams of a happy world where humans and nature live in harmony.
With faith and persistence to exactly reproduce the deep and vast marine ecosystem,
we have put away all previous standards and started again from square one from the perspective of marine life and you.

13 Themes in Five Oceans of the World - You can experience the special encounter with the marine animals in various theme zones where the oceans from all over the world are exactly realized.
Walking Along the Ecosystem - River to Coast, Coast to Sea. Experience the wonder of nature by walking along the flow of the ecosystem.
A Vivid Place for Learning - We deliver the pleasure of living together with marine animals through 14 experience education programs, the largest offered in Korea.
Useful Info.
1330 Travel Hotline:

+82-2-1330

(Korean, English, Japanese, Chinese)

Lotte World information:

+82-2-411-3502

(Korean)

Parking Facilities: Available

+82-2-411-5574

Closed: N/A (Open all year round)

Lotte World Operating Hours
- Monday ~ Thursday: 9:30am ~ 10:00pm
- Friday ~ Sunday: 9:30am ~ 11:00pm
* Closing time may vary each day
Lotte World Aquarium Operating Hours
- Monday~Sun: 10:00am ~ 10:00pm
* Depending on the season, operating hour is subject to change. Please check the opening hours of the date you plan to visit
Refund & Cancellation Policy
No refund. All sales are final.
Terms & Conditions
Cardholder can present either a printed or mobile coupon

Please redeem your ticket(s) at the South Gate group ticket counter (located 50 meters to the left of the main gate)

This offer is for foreigners only. You may be asked to present your passport at the ticket counter before redeeming your ticket

If you purchased Lotte World + Aquarium combo ticket, you must visit both attractions on the same day

Offer

Valid until March 31, 2020